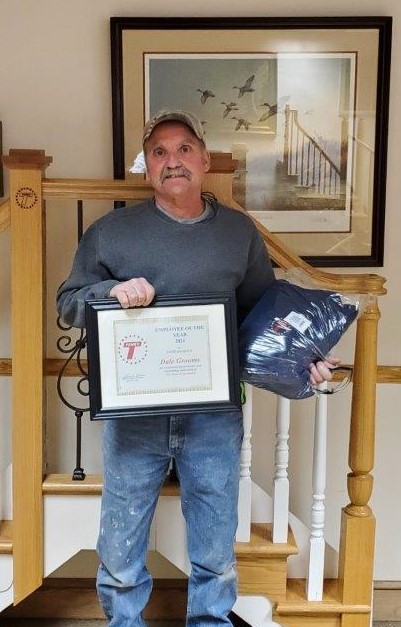 The Taney Corporation congratulates Dale Grooms who has been awarded Employee of the Year for 2021.  Dale is an integral part of The Taney Corporation team in his efforts in leading the open stair division successfully and for improving the communication and performance within.
He is consistently keeping things in line and on target in the open stair department, as well as assisting in the straight stair department when needed.  He gets along with everyone and is willing to help anyone.  Dale has a level head and a good eye which is imperative in his leadership role but also knows how to encourage others to strive to do better.  He has a good idea of the big picture as well and has the company's best interest in mind daily.  Dale has been employed with The Taney Corporation for 2 years.
The criteria for receiving the Employee of the Year are dedication, a hard worker, good dependable attitude, cool under pressure, completes all work and always follows through, assists others without asking, innovated, willingness to go the extra mile and a true company employee.  Dale will be receiving a Taney hoodie and 2 days off with pay!
Congratulations Dale for your ongoing efforts and hard work!